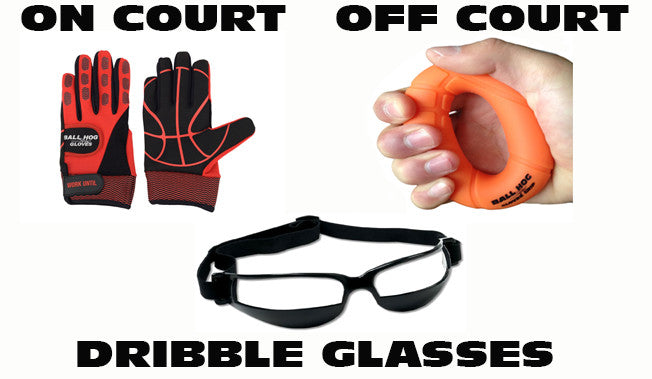 BallHogGloves
Ball Hog Gloves X-Factor, Grip & Dribble Glasses Bundle
Ball Hog Gloves X-Factor, Grip & Dribble Glasses Bundle
$64.99 $69.99
The Ball Hog Gloves X-Factor and Grip bundle is the perfect way to work on your game on and off of the basketball court.  Challenge your ball handling workouts with with the gloves then strengthen your hands while you are not in the gym. 
The Dribble Glasses force you to keep your head up while dribbling by not allowing you to look down at the basketball.  This is a great way to train yourself to see the floor while handling the ball. 
The Ball Hog Gloves X-Factor are designed to improve your ball handling by taking away the natural grip of the basketball while adding weight (on the wrist) resistance. This unique method of training focuses on hand strength and speed.  If you are ready to maximize your ball handling skill set, put on a pair of Ball Hog Glove X-Factor and work until you get to then next level. 
WEIGHT RESISTANCE FOR HAND STRENGTH AND SPEED
CHALLENGE YOUR BALL HANDLING WORKOUT
ANTI-GRIP FOR BALL HANDLING AND CATCHING