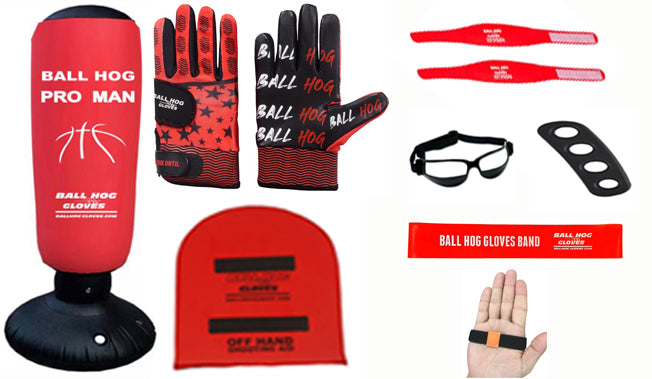 BallHogGloves
8 Pro BUNDLE (VALUE over $185): Ball Hog Gloves Weighted, Pro Man, OFF PALM Shooting Aid, OFF HAND Shooting Aid, Shooting Lock, Ice Straps, Stretch band and Dribble Glasses
8 Pro BUNDLE (VALUE over $185): Ball Hog Gloves Weighted, Pro Man, OFF
$99.99 $115.00
This package (Value over $185) includes the Ball Hog Gloves X-Factor (Ball Handling),Pro Man (Defender & Screener) OFF PALM Shooting Aid,  OFF HAND Shooting Aid, Shooting Lock, Ice Straps, Stretch band and Dribble Glasses
Ball Hog inflatable PRO MAN ($39.99) is the perfect way to practice or train with an added defender or offensive player. Adding a stationary player to your ball handling, lay up and shooting drills can prepare you for game-like situations. Coaches and trainers will love this PRO MAN because it is light and portable. You can use it as a defender or offensive screener. If you want to take your practice to the next level the Ball Hog Gloves PRO MAN is for you.
The BALL HOG GLOVES X-FACTOR ($59.99 )are designed to improve your ball handling by taking away the natural grip of the basketball while adding weight (1 lbs per pair) resistance.
BALL HOG OFF PALM ($19.99) Keeping the basketball on your fingertips and off your palm is the most fundamental aspect of the jump shot.  Shooting the ball from your palm breeds inconsistency, commonly referred to as streak shooting.  A streak shooter can make five in a row and then miss the next eight. If you are looking to develop a more consistent jump shot by utilizing your fingertips instead of your palm, the OFF Palm Shooting Aid is for you. 
OFF HAND SHOOTING AID ($24.99) The enemy of every great jump shot is usually a overly utilized non-shooting hand, aka the guide hand. Whether it's a thumb that disrupts ball rotation or fingers in front of the basketball, an uncorrected guide hand can lead to a decreased shooting percentage. The Ball Hog Gloves Off-Hand Shooting Aid takes care of this issue by removing your guide hand from each practice shot. This allows you to focus on your shooting hand form and fundamentals.  If you are looking for a tool to help perfect your jump shot, then the Ball Hog Gloves Off Hand Shooting Aid is for you.
The DRIBBLE GLASSES ($9.99) force you to keep your head up while dribbling by not allowing you to look down at the basketball.  This is a great way to train yourself to see the floor while handling the ball. 
The BHG Resistance Band ($9.99) is a great for basketball ankles, legs, wrists, core strengthening and stretching exercises. Compact in size for travel, you can can use the Ball Hog Gloves resistance band pre-workout, post workout or at home.
BHG Ice Straps ($9.99) Running, jumping and consistent contact on the basketball court can lead to body aches. The Ball Hog Gloves Ice Straps are designed (for basketball players) to bring cold compression to your ankles, feet, wrists, knees or elbows. If you are looking to relieve pain or soreness after a practice or game the Ball Hog Gloves Ice Straps are for you.
 *JumpStart33, LLC assumes no responsibility for personal injury or other loss sustained by or through the use of this product.
Become a better ball handler with the Ball Hog anti grip weighted basketball gloves.
Add a defender and screener to your practice with the Pro Man
Refine your shooting mechanics with the Off Hand, Off Palm, and Shooting Lock
Ice your injuries with the Ice Straps
Great for team and personal basketball workouts